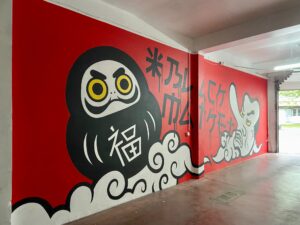 Welcome to Black Market Antiques, the place to be for Japanese interior antiques, kimonos, kokeshi dolls, furniture, ceramics, and much more.
With an extensive collection spanning over 1500 square meters, our physical store in Antwerp, Belgium, is a treasure trove of unique and exquisite pieces waiting to be discovered.
At Black Market Antiques, we specialize in curating the finest Japanese antiques, offering a diverse range that reflects Japan's rich cultural heritage. From traditionally designed furniture to vintage kimonos, each piece in our collection carries a story and exudes timeless elegance.
Conveniently located at Herentalsebaan 123 in Deurne, Antwerp, our store offers an engaging experience for antique enthusiasts, collectors, and interior designers. Our knowledgeable staff is passionate about Japanese craftsmanship and culture, and they are always ready to assist you in finding the perfect piece for your interior or collection.
We welcome you on Thursdays, Saturdays and Sundays between 11am and 5pm. Whether you are looking for a striking piece of furniture, an authentic ceramic vase or a vintage kimono, our shop is the ideal destination for discovering exceptional treasures.
In addition, we also offer the option to make an appointment for a personalized shopping experience. To schedule an appointment, you can email us at info@blackmarket.earth, and our dedicated team will be happy to assist you.
We also welcome you to ONI, your source for exquisite Japanese antique and vintage pieces. We are delighted to announce that we have recently opened a second store in the vibrant center of Antwerp, located at Lange Koepoortstraat 78. In our new store, we present a carefully curated selection of our finest pieces from our extensive Japanese antique and vintage collection. Discover the timeless beauty of our haori kimonos, admire the charm of our kokeshi dolls, explore the craftsmanship of our ceramic pieces, and indulge in the unique expression of Japanese art. Our opening hours are as follows: Tuesday to Sunday, from 11:00 AM to 6:00 PM, closed on Mondays. At ONI, we strive to make your experience with us as special as possible. Our friendly and knowledgeable team is ready to welcome you and assist you in finding the perfect piece that matches your taste and interest. We look forward to meeting you at our new store on Lange Koepoortstraat 78. Whether you are a seasoned collector or simply curious about the beauty of Japanese antiques and vintage items, we welcome you with open arms. See you soon at
We look forward to welcoming you to one of our stores and assisting you in finding that perfect piece that will add a touch of elegance and history to your interior.
ONI
Lange Koepoortstraat 78, 2000 Antwerp / Open daily from 11 am to 6 pm. Including Sundays and holidays.
Black Market Antiques
Herentalsebaan 123 2100 Antwerp Deurne / Open on Thursday, Saturday, Sunday: 11 am – 5 pm and daily by appointment.
By appointment: 
info@blackmarket.earth
Agata: +32476047600
Tom: +32471525090